How to please yourself with something original when solid color design tired of nails? A manicure with dried flowers comes to the rescue, which can decorate any female hands. The idea will appeal to sophisticated natures, because they love so much to decorate their lives with flowers. Let's take a look at the basic rules for creating a coating.
What's this
A unique manicure with dried flowers is an unusual composition with a herbarium. On the nails there are flowers and twigs that have been dried in a special way. The coating substrate and decorative elements are chosen according to your taste. You can focus on mood, inspiration, or your outfit.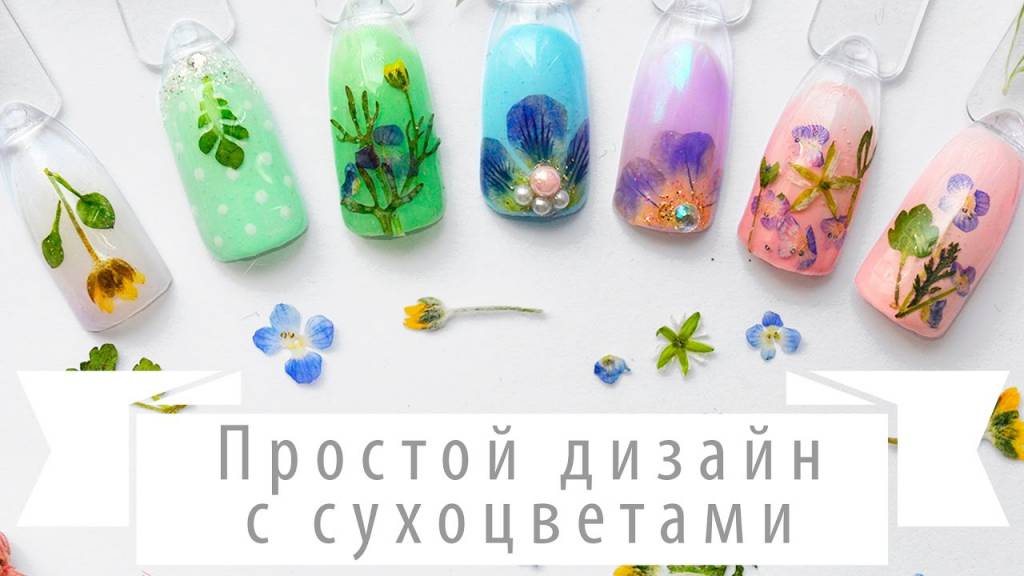 The natural product has different shapes and colors. The design with dried flowers will suit airy dresses, chintz sundresses and boho-style looks. Even for ordinary jeans and jerseys you can think of something interesting. Dried buds look equally luxurious anywhere.
Varieties of dried flowers
Let's look at what dried flowers are, how they can be applied in design:
| | | |
| --- | --- | --- |
| View | Picture | Features |
| umbrellas | | Dried flowers in the form of umbrellas with thin twigs. Can be used individually or combined with several umbrellas for volumetric manicure. |
| buds | | Small dried flower buds of different colors. Perfect for creating aquarium nail design. |
| small-petal | | Small and slightly flattened flowers with several petals. |
| individual parts (branches, petals, grains) | | Additional elements in the form of twigs, petals and grains will help saturate and add depth to the entire composition. |
| skeletonized leaves | | With the help of transparent skeletonized leaves, you can create an unusual nail design. |
Where to find dried flowers
You can buy dried flowers for manicure in a specialized store or order online. A small jar holds about 10 small flowers. The price for a set starts at 20 rubles. If you did not manage to find dried flowers anywhere, then you can make them yourself. In the warm season (Spring—summer) in any meadow with herbs and buds, you can pick cornflowers, daisies, clovers, etc. They need to be placed between the pages of the book and wait until they dry for at least a week.
Remember how you made herbariums at school. The book contained various leaves, petals, flowers and stamens. Unfortunately, after drying, the plants lose their contrasting tones and become more faded. In order to achieve the same rich shade as in stores, you need to gently blot dried flowers with a swab in paint or gently shade colored shadows on them using a special applicator.
There is another quick option for creating dried flowers.
Put all the collected flowers on a paper towel.
Cover the top with another layer of paper towel and an A4 sheet of office paper.
With an iron heated to the maximum temperature, iron the workpiece for about 5 seconds.
Let the paper cool down and repeat the same procedure a couple more times.
The dried flowers are ready.
Gently collect them with tweezers and place them in a jar.
Secrets of specialists
Our simple advice will help you create a unique and original coating:
dried flowers are recommended to be placed on line smiles or in the corner near the side bolsters;
it is best to choose translucent, neutral and beige shades as a substrate;
it is recommended to distribute and smooth the herbarium with an orange stick;
draw inspiration from nature itself, you can lay out flowers and petals as you like;
dried flowers are successfully combined with sparkles, sequins, rhinestones, rubbed, Swarovski crystals, yuki flakes и casting;
a neutral polka dot background will give your design with dried flowers a special charm;
dried flower-umbrella can be glued to the entire nail at once or disassembled into small parts;
there are no restrictions in this coating: there are never too many dried flowers.
What to glue dried flowers on
A manicure with dried flowers requires special fixing. Having correctly processed the nail with the design, you can save yourself from many unpleasant situations. Make sure that each element of the dried flower is tightly covered with a thick product and does not stick out on the surface.
Extension gel and acrylic
The best option for a dried flower design is gel for building... According to the standard, it is best to take a translucent gel, but a colored one is also possible. The translucent fixer has a thick consistency and is able to hold many decorative elements on the nails. It is it that is used when creating an aquarium design, when each layer of the nail is filled with various contents, including dried flowers. The gel is dried in a lamp. When interacting acrylic powder with the monomer, a viscous texture is formed that is able to create any texture of the nail. With the help of acrylic, it is easy to "brick up" any dried flower in the nail.
Top
It is easier to create a manicure with dried flowers on extended nails using artificial materials. But girls with natural plates shouldn't be upset. There is a method that will help fix dried flowers even on short nails.
As a substrate, nail art masters are advised to use a colorless varnish with a dense base. After drying the nails, you need to carefully lay out the dried flowers on the nails and press each one with tweezers. When the composition is ready, you need to apply 3 layers of top. If petals or twigs stick out on the nail, they can be trimmed with nail scissors. After this procedure, it does not hurt to apply another hardening layer of topcoat to remove bumps and fingerprints.
Best design ideas
A manicure with dried flowers is a real flower field for imagination. You can borrow design ideas from Mother Nature herself. The herbarium looks harmoniously with any decorative elements and accents.
Magic extravaganza
A unique coating with a contrasting herbarium will appeal to girls with a refined taste and a great aesthetic beginning. There is nothing easier than making a manicure with dried flowers on short natural nails.
What will be required:
base;
beige, nude or pearlescent varnish;
dried flowers;
tweezers;
nail scissors;
top.
How to design with dried flowers:
Apply base coat to nails and let dry.
Gently place the dried flowers on your nails with tweezers and press them down a little.
Cover the resulting composition with 3-4 layers of topcoat.
If desired, you can add several rhinestones to the design, which will replace the core of the flower.
Video instruction
Step-by-step instructions on how to make a nail design with dried flowers can be seen in the video.
Flower meadow
For real summer manicure under the prism of magic glass. Every element in this coating wants to be examined over and over again. Making a design with dried flowers is pretty easy at home.
What will be required:
manicure file;
base for building;
gel for building;
extension brush;
special molds with markings;
dried flowers;
sequins;
brush or orange stick;
top;
file for artificial materials.
How to make a manicure with dried flowers:
Gently file the nails and remove excess gloss.
Put the molds on the nails.
Apply base coat to nail plates.
Scoop up the extension gel and place the ball in the middle of the nail.
Flatten the ball and shape the nail into the desired shape.
Dry your nails in a lamp.
Use a file to shape and remove excess thickness.
After drying, carefully lay out the dried flowers in the corner and at the cuticle of the nail. One can go for the other.
Cover the design with a layer of Extension Gel.
Add some sparkle to the design.
Cover the design with a thin layer of Extension Gel.
After thoroughly drying, cover the design with a top and dry again.
Step-by-step instructions on how to make a manicure with dried flowers can be seen in the photo below.
An extraordinary and original manicure with dried flowers is quite simple to perform on your own at home. Treat yourself to a cool nail design that no one else has. Let it make you happy and bring only the most positive emotions!