The fabulous time comes when all desires come true. You need to properly meet the coming year and carefully think over your image inside and out. Hair, arms, legs and figure must be in perfect condition. When a dress for celebrating a celebration is chosen, you need to take care of your nails. Let's take a look at the best manicure ideas for the new 2018.
What you should pay attention to
The New Year is very soon, and everyone is starting to prepare for the celebration. Magic holidays give free rein to our imagination. A beautiful manicure for the new 2018th year can be anything: monochromatic, fabulous, colorful and original. Which one will you choose? Heavy snowfall, a house with warm light in the windows, cheerful deer, a prankster penguin or strict monograms? Manicure ideas for the new 2018 are endless.
Correct form
In the new autumn-winter season 2017/2018, naturalness is relevant. Any natural nails look unobtrusive and fresh. The length can reach no more than 4-5 mm. It is better to choose the shape based on your hands. The most popular nail shape in 2017 is the oval, and it is also moving into 2018.
If you are a lover of long claws, take a closer look at the almond shape or short stylet. A neat semicircular nail with a soft or very pointed tip looks graceful and luxurious. These options will highlight your femininity and passionate nature.
Actual colors of the year
The upcoming 2018 is the year of the yellow dog. Therefore, nails must be decorated in the following shades:
yellow;
brown;
sand;
beige;
Orange;
gold.
Best of all, these tones are in harmony with herbal, purple, purple and blue. But do not forget about the classic New Year's colors for manicure: red, white, green, blue.
Design life hacks
For you, we have collected the best secrets that you can use when creating your New Year's manicure:
draw manicure ideas for the new 2018 from postcards, films, cartoons or from nature itself;
you can add volume to figures (houses, balls, animals) using a gel for building;
the effect of "snow" will help to create acrylic powder with sparkles;
New Year's nail design can be done on both short and long nails;
on smooth nails, the pattern looks best, you can align the nails with the base;
rhinestones, Swarovski crystals, broths and liquid stones can be attached to a building gel or a very thick rubber top;
when creating a design, consider the combination of shades with each other;
large elements should be on 1-2 fingers, the rest can be left plain or filled with small details;
plain manicure is also a great idea for nail design for the new year;
remember that the coating should be ideally combined with your clothes and hairstyle;
try to match your decorations in color with the elements in the New Year's manicure.
New Year's attributes
In this wonderful winter season, you can decorate your nails the way you want. No one will look askance at you if you depict a snowman or Christmas balls on your hands. Let's take a look at the best and most relevant manicure ideas for the new 2018.
Traditional symbols
What is a New Year's manicure without holiday symbols? For you, we have selected in the table the most popular elements and attributes that can show off on your festive design:
| | |
| --- | --- |
| View | Characterization |
| snow | Snow on the nails creates a special magical atmosphere on the nails. You can make snow using white acrylic powder or velvet sand. |
| snowflakes | You can draw beautiful snowflakes with a thin brush. If you do not want to mess with small details, then it is recommended to use stamping or sliders with a ready-made print. |
| sequins | There is never a lot of iridescent glitter. Dense sequins can be used to fill the entire nail or a separate part of the decor. For coating, use loose glitter, wet glitter or shimmer varnish. |
| New Year's guards | Deer, Christmas trees, bears, dogs, penguins, bunnies and snowmen are the symbols of the New Year. You can paint them by hand with a brush or use special stickers of your choice. |
| Garlands | Thin strings with colorful lanterns always look magical. You need to draw a thin line that wriggles a little, and then add a couple of colored bulbs. Create great manicure ideas for the new 2018 yourself. |
| Frost patterns | Monogram, stems, twigs - this is the ideal solution for bringing frosty patterns on nails to life. |
| velvet surface | Soft and fluffy flock manicure - this is a good option for your New Year's dress. |
| knitted manicure | The warm texture of your grandma's favorite sweater can be recreated using knitted manicure. |
| fireworks | Crackers, fireworks and incendiary nail lights are made with foil and yuki flakes... The particles can tightly hammer the nail or decorate a certain area of ​​the nail. |
| Balls | Christmas balls can be hung not only on the tree, but also to decorate your pens with them. You can reproduce the pattern using a dots with a large nozzle, draw with a brush by hand, or use stamping. |
| ornament | What a New Year's nail design without a unique background manicure with ornament. |
| shiny texture | You can use yuki flakes to create the background. Swarovski crystals, broths, rhinestones и foil for casting. |
| confetti | Multicolored sequins and kamifubuki it is recommended to refill your holiday manicure. Feel free to combine sequins of different shapes and colors with each other. Fingers can show off stars, crowns, circles, tubes, triangles and rhombuses. |
| holiday shards | A magical overflow is created using mother-of-pearl foil, which is used in the technique "broken glass". |
| strip | The white and red stripe is a New Year and Christmas classic. Liven up the finish with dotted lines or green paints. |

Symbol of the year
The yellow dog is the symbol of the new 2018! A faithful eared friend can flaunt on the nails. Drawing a dog is quite simple:
You need to paint over 1/3 of the nail with yellow or brown.
Carefully pull out 2 ears.
With a thin brush with black varnish, paint the nose, antennae and eyes.
Outline the outline of the dog.
If this task seems too difficult for you, we recommend using sliders with ready-made images or stamping. In addition to the dog, you can draw footprints on your nails using a dots attachment.
Remember that a festive manicure is done not for 2-3 weeks, but for one solemn event. Focus not on your everyday wardrobe, but on one evening look. Don't keep your imagination tight.
Classic Options
For ladies who do not accept any symbols, pictures and other colorful patterns on their nails, we have compiled a list of classic ideas for New Year's manicure in 2018. If you think that all New Year's paraphernalia should be only in the apartment and on the Christmas tree, and the pens should be decorated to a minimum, then this section is for you.
New Year's french
French manicure may be festive. It is recommended to experiment with a beige backing, try painting it in a bright shade. You can do the same with a smile. Multicolored smiles in classic Christmas colors: red and green will look good on a nude background.
If you like to focus only on jewelry, you should not fill your manicure with snowflakes, snowmen and a lot of sequins.
Feline charm
The most strict and concise manicure ideas for the new 2018 can be made using the cat's eye technique. A soft overflow, a range of various shades, small grains and an even glare - this is the best option for a festive look. A cat's eye manicure goes well with any long cocktail dress and high hairstyle. Make sure that the highlight is even on all fingers, otherwise this small inconsistency can ruin the entire New Year's nail design.
New Year's manicure should not be a separate part, but a component of your image.
Golden patterns
If you want to wear an elegant dress, large bright earrings and a ring, then it is best to depict an unobtrusive design on your nails. A manicure with gold monograms looks festive in itself. If you combine it correctly with clothes, then your image will shine in a new way. This design looks bright, but quite casual.
What will be required:
base;
black gel polish;
foil for nail design;
an orange stick;
gold leaf;
top.
How to make a New Year's manicure:
Treat nails gently and apply a base coat.
It is good to dry everything in a lamp.
Apply black gel polish to all undesigned nails and cure them in the lamp.
Tear the foil into small pieces with an orange stick.
Pressing a little, glue the foil on the nails with the design. You need to cover the entire nail.
Cover fingers with foil with another layer of base to level the surface.
Draw out the monograms with a thin brush with black gel polish. Fine gaps should be painted over.
Glue small pieces of foil onto nails, complementing the design with gold elements.
Apply the finishing top to the design.
Black and gold manicure for the new 2018th year with monograms can be seen in the photo below.
Fabulous decorations
If you did not have time to sign up for a manicure with your favorite master, do not worry. We offer you manicure ideas for the new 2018. Repeating them at home yourself is very simple and easy. Rather, get out all your available tools that were previously stored in boxes and boxes, and start creating.
Christmas balls
The New Year's design with Christmas tree decorations will appeal to those who want to give a special mood to a magical winter. The drawing in the form of Christmas balls is quite light and laconic. But there should not be many toys in New Year's design, otherwise an abundant amount of balls can make the design pretentious.
What will be required:
base;
white gel polish;
orange gel polish;
black gel polish;
thin brush;
acrylic Powder;
palette;
top.
How to make a New Year's nail design:
Apply a base coat to the nails and cure it in a lamp.
Nails with a design to be painted in an orange tint.
The finger, where the design will be, is painted white in 2 layers.
Sprinkle the entire nail with acrylic powder to get a volumetric relief.
Make the markings with a thin brush with black gel polish. In the corner of the nail, draw circles and two thin threads for which they are attached to the Christmas tree.
Mix a drop of orange polish and top on the palette.
With the resulting color, draw 2 lines on the ball and fill them with color. The colors on the ball should alternate: white, orange, white, orange. Other shades can be selected initially.
Color the second ball as desired.
Lightly rub the design with acrylic powder for volume.
Cover the design with a top and dry well.
On the dried surface, put a few thick drops of top to add volume.
Dry everything well in a lamp.
Before drawing the details, you need to squeeze out the brush well.
The effect of a light, unobtrusive watercolor painting, New Year's colors and thin lines refresh the New Year's nail design, which can be seen in the photo.
Frost patterns
Fabulous nail design for the new 2018th year should be shrouded in magic and mystery. In the cold season, it is allowed to combine all known techniques with each other. This coverage is no exception.
What will be required:
base;
blue gel polish;
white gel polish;
iridescent foil with a pattern;
thin brush;
rhinestones, broths, liquid stones;
an orange stick;
top.
How to make a 2018 New Year's manicure:
Before starting work, process the nails and cover the manicure with a base layer, drying it well.
Cover all nails except one with blue gel polish, and one nail with white gel polish.
Stamp foil on blue nails for an amazing iridescent texture.
Align the design with the base and dry the nails in the lamp.
On dried nails, draw a few monograms and curls with a thin brush with white gel polish, which imitate frosty patterns on the nails. If desired, they can be sprinkled with acrylic powder for volume.
Put a stone on a white nail and inlay it with rhinestones and broths.
Seal the design with a finishing top and dry.
Christmas candy
Simple but beautiful New Year's nail design is easy to reproduce at home. In the West, delicious red-and-white lollipops have long been a symbol of Christmas and the New Year.
What will be required:
base;
white and red gel polish;
thin brush;
topcoat.
How to make a manicure for 2018:
You need to start a manicure from the base layer. After application, it must be well dried.
Apply 2 coats of white gel polish to all nails.
Draw thin diagonal lines across the entire nail with a thin brush with red gel polish.
Then two lines must be painted over with red, and the third must be skipped.
Repeat this pattern on all nails.
Cover the design with a top.
If you have a striped pattern, apply the topcoat in the direction of the stripes so that the pattern does not smudge.
Frost patterns
How to bring to life the best manicure ideas for the new 2018? Our video tutorial will help you with this.
Best New Year Design Ideas

For you, we have collected the most beautiful photos of manicure ideas for 2018, both classic and original.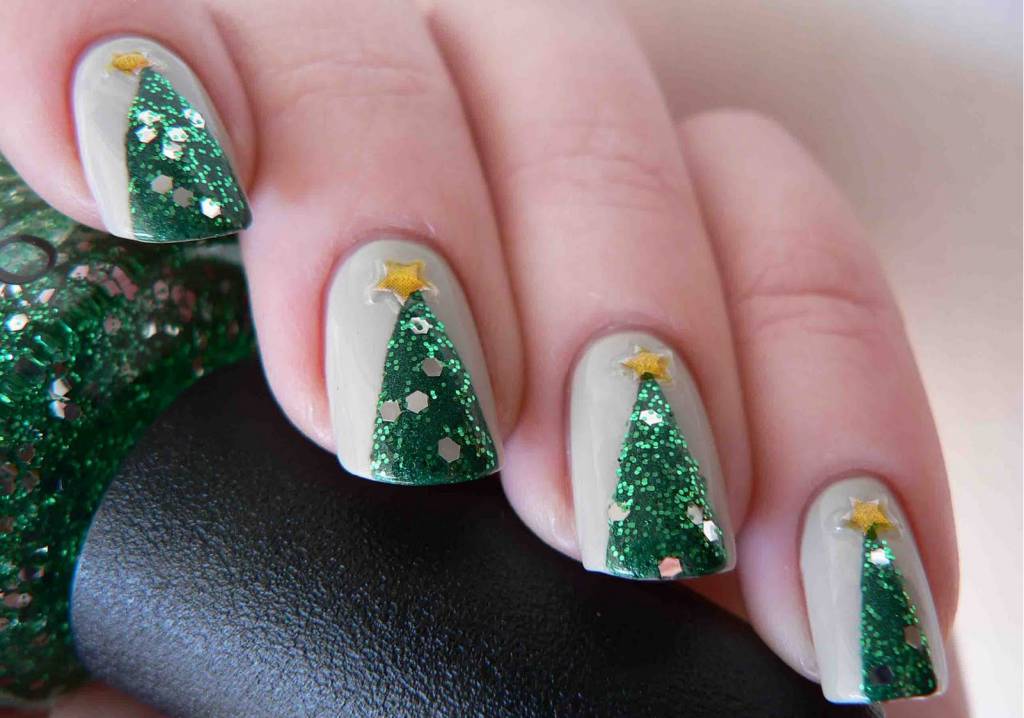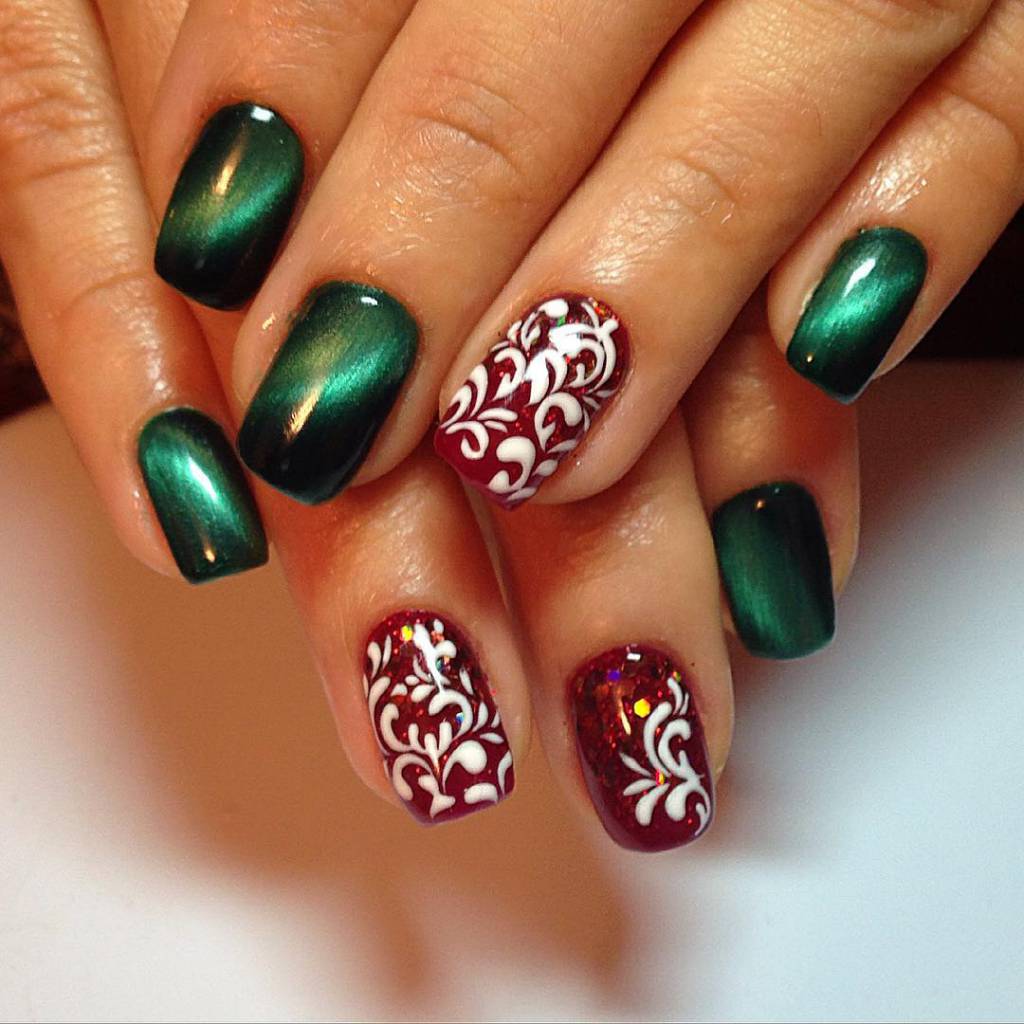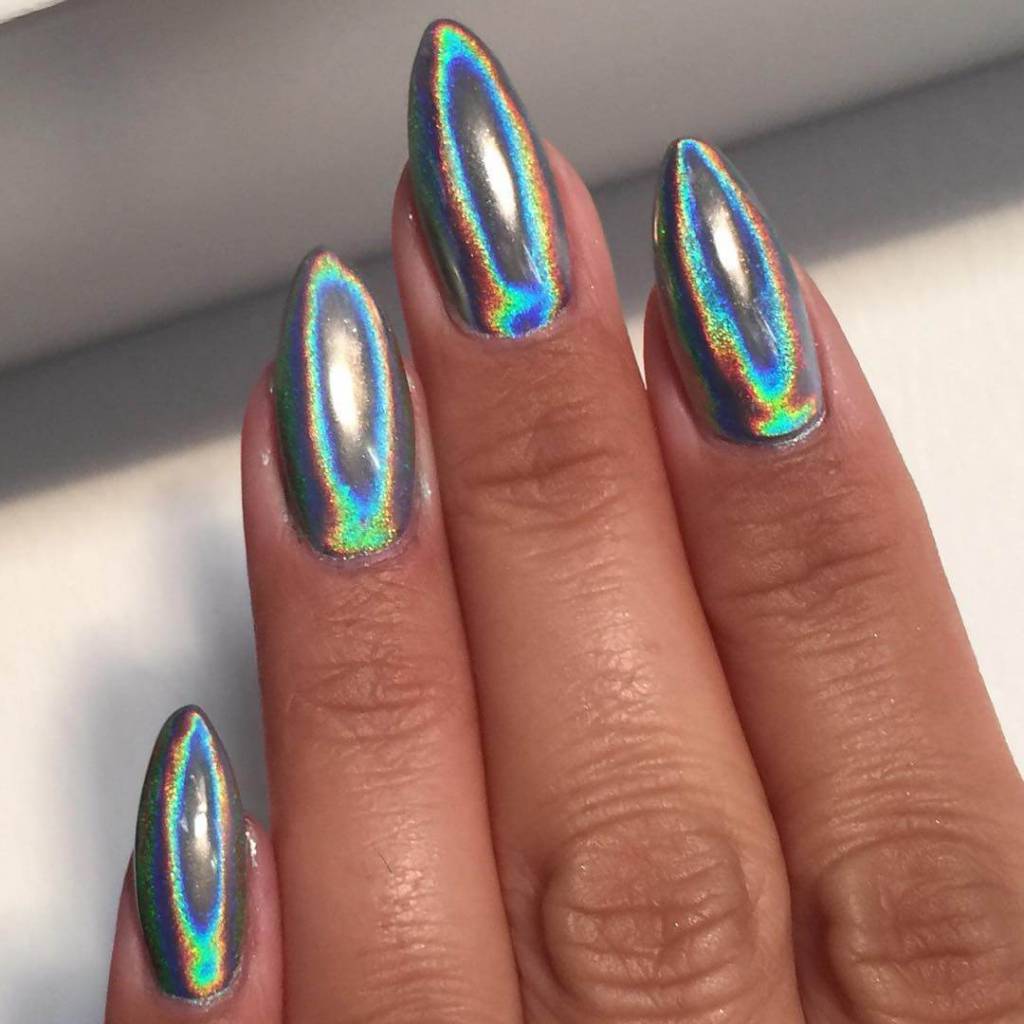 We hope that our best manicure ideas for the new 2018 will help you decide on the design. Be the most beautiful at the festive table and strike everyone with your luxurious look, from your hair to your nails.